APM TOPOLOGY OPTIMIZATION
APM Structure3D
The core module for finite-element analysis
NEW FEAUTURES
Topology optimization (additional option "TopOpt"). This allows to create the best designs in terms of mass, rigidity and other characteristics.
Topology optimization includes:
- Use multiple load cases / combinations of load cases
- Specify design space
- Manage the sizes of design features
- Several algorithms for processing the final model
- Powerful tools for setting initial parameters
- Analyse calculation results using isosurfaces and color scales, as well as a simplified representation
- Adjust the volume fraction values ​​at arbitrary points in the design area after the calculation
- Post-process optimization results with automatic generation of quality surface mesh with given element size
- Create three-dimensional tetrahedral mesh of optimized design for verification
- Automatically rebuild contact zones taking into account the geometry changes after optimization
- Use GPU (CUDA) to accelerate calculation
- Export optimized model for rapid prototyping via 3D printing or manufacturing with traditional methods (STL format)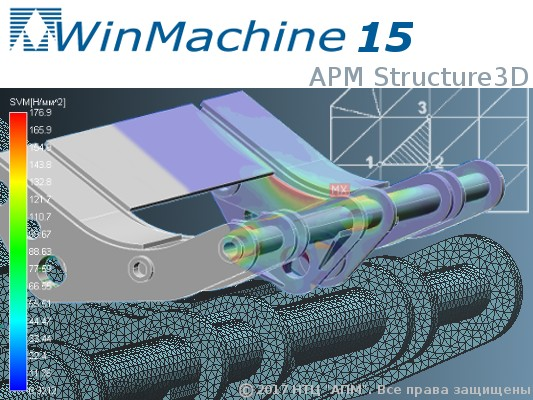 APM STRUCTURE
Topological optimization of structures
Designing modern products in a tough competitive environment requires the creation of structures that are optimal in mass, strength, rigidity and other parameters. However, even for an experienced engineer, this is a complex task, the solution of which is not always obvious.
The output can be an automated selection of the optimal design scheme in modern CAD systems using topological optimization!
The company STC "APM" the first in the domestic market of CAD released a software product with the ability to synthesize the optimal design of the product with given parameters and operating conditions.

The topological optimization procedure consists of several steps:
The choice of the objective function (depending on the problem to be solved, for example, maximizing the rigidity of the structure)
Limitations are set: mandatory (for example, mass limitation) and technological (for example, the minimum thickness of the elements obtained)

The optimal design is calculated for a given parameter, taking into account the restrictions imposed

The finished design is processed and interpreted by the integrated CAD tools, either exported in STL format to third-party 3D editors or sent to print to a 3D printer.
Result for new products

Result for already manufactured products

optimal load transfer in power systems

synthesis of power circuits with regard to the layout of the part in the overall design of the product

shorten the product development cycle by obtaining an optimal design at an early design stage

increase the rigidity and strength of parts without increasing the weight and dimensions

weight reduction with minimum loss of stiffness

Attention! To conduct topological optimization of structures, it is necessary to have software from STC "APM" of a version not lower than V16!